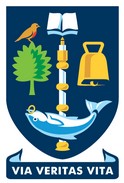 Quaternionic structures in algebraic geometry
16-18 November 2007, University of Glasgow
Home | Venue | Schedule
Venue and transportation
The workshop takes place in Glasgow University, department of Maths, room 325, third floor. For the speakers, we booked the rooms in two hotels: Heritage Hotel and Ambassador Hotel, both within walking distance to the University. Department of Maths is 15 University gardens. It's a nondescript gray building on campus, 5 floors, about 50 meters from the Hillhead subway station, and from the intersection of Byres road and University avenue (see the campus map). Maths is building D4. The Hillhead underground station is on this map, too. Ambassador Hotel is 7, Kelvin Dr,
Glasgow, G20 8QG, UK, +44 141 946 1018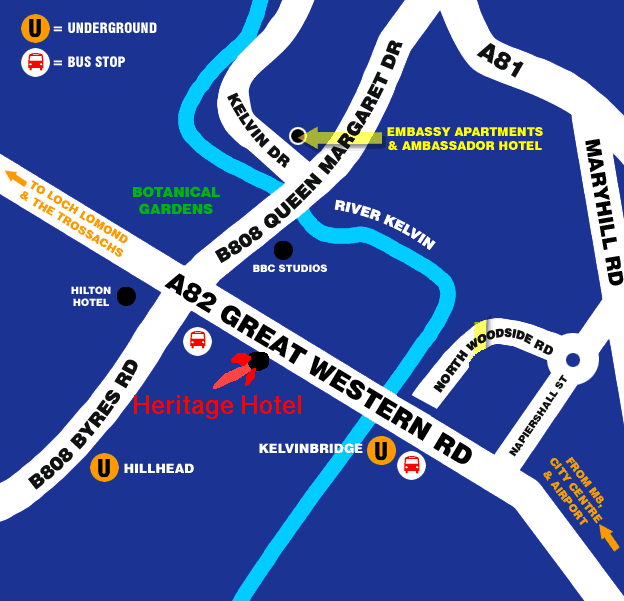 It is situated next to Kelvin River, and a few blocks north from the Hillhead station (which is marked on the map). The walk to Hillhead is straight along Queen Margaret drive, which becomes Byres road one block after; 10-15 minutes to the department.

Heritage Hotel is 4-5 Alfred Terrace,
Glasgow, G12 8RF, +44 141 339 6955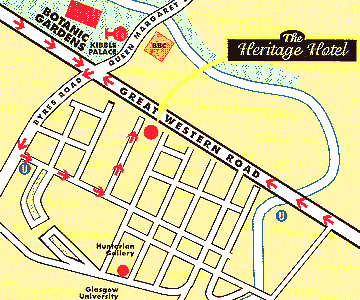 It is situated 1 1/2 blocks from the place where Queen Margaret drive intersects Great Western road and becomes Byres road. Not far from Ambassador Hotel, and the same 10-15 minutes to the University.
Getting there
Official "getting there" pages:

Glasgow Subway closes 18:00 at Sundays and 23:30 the rest of the week. During the night, you can use the bus called Night Rider, going the same route every 20 minutes.

Glasgow has 2 airports and two railway terminals.
Queen Street Station serves some trains to and from Edinburgh, and all trains going North. It is about 30 meters to the underground station of the same name, 3 stops to Hillhead.
Central Station serves all train connections to England and south part of Scotland, and it's about 5-6 minutes walk to St. Enoch underground station, which is 4 stops from Hillhead.
Glasgow International airport is the closest to Glasgow, and serves all airlines except Ryan Air and a couple of minor budget airlines. The taxi fare to Glasgow is 20 pounds. The bus 905 to central Glasgow goes every 7-10 minutes; the timetable is available. The stop "West George St" is the closest to Queen Street underground station.
Glasgow Prestwick is next door to the Prestwick railway station; every 30 minutes there is a train to Central Station.